talkhealth now has its very own BlackBerry app!!
The talkhealth app provides quick access to our monthly freebies, monthly online clinics with NHS Choices & leading charities, our growing bloggers network and our Facebook page. Better still, it's absolutely FREE to download so you can easily keep up to date with all the latest health news.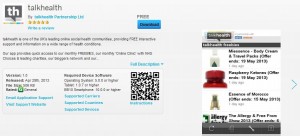 If you have a BlackBerry smartphone, or a BlackBerry Playbook, you can download the app now by visiting BlackBerry World.
http://appworld.blackberry.com/webstore/content/27686832
Do let us know what you think by either commenting below or leaving a review on BlackBerry World.