Yesterday I took part in the Mizuno Reading Half Marathon with 16,000 other runners. Around 20 of my running club, Sherfield Park Runners, took part in the event with most running in our club shirt (a handful ran for a specific charity and so ran in that charity's branded shirt).
The weather was thankfully kind to us, although it did start to drizzle towards the end of the race.
We arrived at our alloted car park by about 8.30am complete with our club's rather large sail banner which we deployed at around the 12.5 mile marker – we used it as a meeting point at the start of the race, and so those who finished in good time could meet up to cheer the rest of us through to the finish line!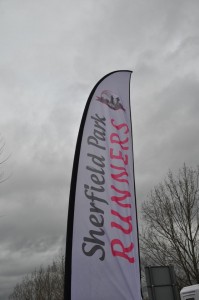 I had committed to run with two of our club members – Danielle and Stacey. Both had never run a half marathon before but had done the training so were well placed to push up from the 10.5 mile Sunday runs we'd done to the 13.1 mile half marathon.
Both Danielle and Stacey started the race well but by around the 4 mile mark it was clear Danielle needed to push ahead so she could run at her pace. A recurring knee problem meant she had to run at a pace comfortable to her in order to limit the amount of discomfort. However, Stacey was struggling and downed tools just after Danielle pushed on telling me she wasn't going to continue and couldn't do the race! Momentary panic set in as I thought quickly what to do … I knew she could do the race as she'd prepared for it so physically she was capable, but mentally her demons had kicked in and that was the only thing stopping her. So, I shouted at her telling her she hadn't trained for weeks and weeks to give up and that I was going to get her to at least 10.5 miles as I knew she could run that distance. I also told her that if she wanted to stop at 10.5 miles I would let her stop. So we continued our race through the streets of Reading being cheered on by the huge crowds, passing singers, bands and Heart Radio there just to jolly us along.
We were making good ground when at 9 miles Stacey had cramp that just wouldn't go. We ran / walked, ran / walked for almost 3 1/2 miles stopping on and off to relieve the cramp. I knew Stacey's resolve was dwindling but I was determined to get her to the end. We held hands and I guided her along. Then we saw the Sherfield Park Runners flag near the finish line with almost all our club members and their partners shouting and cheering us on! It was amazing and incredibly emotional. As we ran into the Majedski Stadium to "We are the Champions" by Queen and ran through the finish line, we collapsed into each other's arms and cried tears of joy! We'd done it. 13.1 miles in 3 hours and 3 minutes – a (Personal Best) PB for Stacey and sheer relief for me!
I am extremely proud of what Stacey achieved against the odds. It shows grit and determination and demonstrates you really can do what you want if you put your mind to it.
As for Danielle, I am extremly proud of her too. Despite promising to run with her she didn't really need my help on the day as she finished in 2:25:45. She'd trained, she was strong and running to raise money for the British Heart Foundation in memory of her sister-in-law, who I'm sure was looking down and willing her on.
In fact, every single one of our running club are amazing and ran brilliantly – either running to improve their PB, running for charities such as Multiple Sclerosis, British Heart Foundation, and Alzheimers Society, running in preparation for the Virgin London Marathon, running a half marathon for the first time or running to support other club members.
Our best finisher, Ben ran in 1:32:20 with Adam not far behind with 1:35:59, Mark with 1:53:04, Steve with 2:07:16, Tara with 2:15:09 and many others with similarly fantastic times.
Running isn't just about exercising and keeping fit. It's about your mind too. It can help with your self-esteem, boost your mood, help with stress, and perhaps more importantly test you to your very limits and push you to achieve things you never thought you could.