Health is wealth. I hate starting an article with a cliché, but this adage is appropriate. In a nutshell, it spells out a sobering reality: We spend a whole lot of money when we get sick.
The government spends millions on public health programs, hoping to get rid of dengue fever and tuberculosis. Sad to say, good governance is hard to come by – and when you see it, the least you can do is give it due credit.
But a few organizations want to take that advice more literally. For instance, the pharmaceutical giant MSD and the pro-initiative Filipino movement Kaya Natin didn't want to just shake the hands of local leaders who do more than expected of them. Taking it one step further, they also gave funds worth PhP200,000 to each of the five chosen local government units who bested their peers.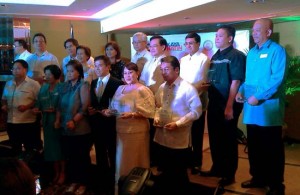 Yes, that's PhP1M worth of credit, all going to municipalities who put a primer on health. And it looks like the hefty incentive is working.
Health Governance Awards: Competition Is The Best Motivation
Not only is a lump sum – with a huge trophy to boot – enough encouragement for local government unites to foster their health programs; it is also the extra shove they need to sustain their exemplary projects. Government officials at the frontline need both the pat on the back and the financial assistance to help their communities.
"Good governance is not just the absence of corruption;
it is also the capacity to address the needs of the constituency."
– Harvey Keh
The Department of Interior and Local Government (DILG) and the Department of Health (DOH), together with the Ateneo School of Government, joined MSD and Kaya Natin in the quest for five government units who set the bar in health governance. In this case, a public-private partnership became a win-win scenario.
Out of more than a thousand municipalities and cities nationwide, only 48 sent in their programs in hopes of winning the coveted prize. Of these, there were ten finalists invited to the awarding ceremony held on June 20, 2013 at The Bayleaf, Manila.
"National and local relationships are now driven by performance," DILG Undersecretary Austere Panadero said. And really, shouldn't that always be the case?
Find out which municipalities and cities won PhP200,000 each as winners of the Champions for Health Governance Awards. And if your country isn't partnering up with private companies to give merit to good leaders, tell them about this article you just read. Tell them about how health is wealth. Go ahead – you might start something big.