talkhealth visited Olympia this weekend to see some exciting products and services available to help with the signs of anti-ageing.  And as you can imagine it was all in the interest of 'science/talkhealth'… and clearly not for us personally!….  In fact this is a 'soft' introduction to our new talkanti-ageing health hub that will be launching in June/July time.  Below are some of the products that we hope to be able to introduce you to more fully and also offer you the chance of sampling their fantastic products.
We met with one of the companies who we already work with in relation to rosacea issues  – Galderma. They were promoting their product Restylane – Skinboosters, which are treatments to help improve skin quality – particularly effective for acne-scarred or photo-damaged skin. Such treatments are only performed by specialist practitioners.
Products with collagen were extremely popular – from gels to put on your face – such as collagen-colway to the lovely sounding & looking Bio-Cellulose Apple Stem Cell Collagen Mask, through to a number of very tasty drink products – such as Gold Collagen, DermaGlo, and Dermacoll and then an unusual one in gel form – like a sweetie – called a protein chew – lingonberry flavour – visi probita.
We also met the lovely Dr Tracy Mountford – from The Cosmetic Skin Clinic – with one of her well known clients – Sharron Davies, and Sharron's daughter Gracie who clearly doesn't need any help!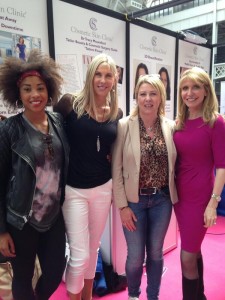 Energist Medical Group were demonstrating their UltraPlus Light system that helps with Acne, skin rejuvenation, pigmented lesions, vascular lesions and hair removal.
Have you noticed the number of wrinkles caused by sleeping on your side – particularly on your chest and your eyes? SilcSkin have different sized pads to hopefully combat these issues made out of silicone.
It might seem that the above are all for women – but that certainly isn't the case – Biocorrex has a great range of products to offer a comprehensive system for both men and women.  David from Parkwood Clinic – (as seen on Embarrassing Bodies) was showing their affordable hair loss treatments.  Lastly a few others that we wouldn't like to miss mentioning were Abundance & Health with their Altrient C high performance nutrients; Tria Beauty with their hand held home laser treatments; Chai Yi – a naturally healthy tea blend that aids the body to burn fat reserves and the amazingly young Susie Rogers & Leah Hardy with a new book Your Hormone Doctor with Dr Daniel Sister …..
There were many many more that we could mention, but hopefully this gives you a good idea of the fantastic range of products and services that are out there.  If you're feeling like you've missed out, don't fear as the anti-ageing show NORTH is running in Manchester 8-9th November 2014.