by Anushka F – Content Editor at MagicFreebiesUK – Free Stuff, Free Samples & More
Over the last few months I've been on a mission to strengthen my hair from within. So for my first blog post, I wanted to share the free ways in which I've helped reduce hair loss and managed to kick-start my growth cycle.

Ever since I was young, I've always loved to experiment with different products, and my bathroom cupboards were always crammed-full. Then when I worked as a beauty writer, I was asked to try lots of free stuff, and took a special interest in hair loss innovations. I first experienced hair loss and an irregular growth cycle when I was 18 – the same age my mum was when she began to experience similar problems.
I tried everything from serums to thickening shampoos, and hair fibres. Most worked at hiding the thinning by temporarily thickening each strand, but the condition of my hair was always horrible – dry, weak and not an ounce of shine. I also suffered from an itchy, flaky scalp. After a decade of experimenting, I finally came to the realisation these products were just masking the problem and making my hair condition worse – I needed to get to the root of the problem!
I saw a trichologist who confirmed I was showing signs of both female pattern and traction hair loss, caused by over-styling. She also identified bad diet and low iron levels as contributing factors to the irregular growth cycle and why my hair was struggling to grow.
So last year I began to investigate how to improve my hair from within, trying different foods and making lifestyle changes. As it's a hereditary problem, I'll never have a lion's mane of hair, but within the six months of trying natural alternatives, my hair condition has really improved. It's not shedding as much, my hair is noticeably stronger and shinier, and I've had a lot of new hair grow through.
Here are the different changes I made to improve my hair and jump-start my sluggish growth cycle. I'm not a nutritionist or hair expert so this is by no means meant to be expert advice, just what I have researched over time and that has worked for me.
Diet…
Plenty of protein
Hair is made up of protein so it's important to supplement it with a protein-rich diet to ensure it grows strong and healthy. I make sure I have protein every day in the form of reasonably priced chicken, turkey, tuna and eggs. Salmon is also full of protein, fatty acids and high supplies of iron and vitamin b12 (essential for healthy hair), it can be expensive so I buy smoked salmon squares and shred them into sandwiches, salads and pasta. I also like it with scrambled eggs for lunch!
Eating iron-rich spinach and kale
It's important to maintain a good iron count. I was iron-deficient when I was younger and prescribed supplements, but these days I prefer to have it through different foods like brown rice and pulses. I also make sure I have plenty of dark-green leafy vegetables like spinach and kale. These can be worked into pretty much every meal – with eggs in the morning, salad at lunch or as a side for dinner – it's easy to prepare and reasonably priced.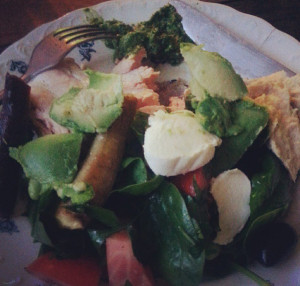 Including Biotin in my diet
Biotin, a B-complex vitamin, is essential for maintaining healthy hair. It can be found in oats so most mornings I have porridge oats with almond milk (delicious and great source of antioxidants, calcium and vitamin e) and a small scattering of blueberries. This breakfast means I have get plenty of biotin in and a burst of anti-oxidant rich fruit for good measure.
Snacking on nuts
Nuts are generally fantastic for hair-enhancing vitamins, so I make sure I keep a large bag of mixed nuts in my office draw and have a handful every morning – a 350g bag lasts around 3 weeks. A mix of walnuts, Brazil nuts, cashews and almonds are considered the very best combination with plenty of omega-3, fatty acids, iron, biotin, protein and vitamin e – everything you need for healthy hair!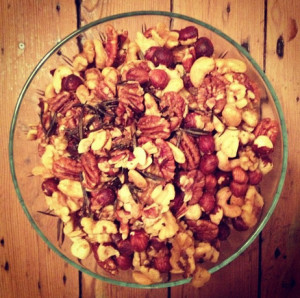 Keeping hydrated
Water is essential for keeping your entire body in check, and we all know the benefits for skin but it's also vital for healthy hair. Water keeps your hair from drying out so I've been trying to keep myself well hydrated with the recommended 8 glasses a day. I also pop a slice of lemon into most glasses to help flush out any toxins.
Eating lots of broccoli
Broccoli not only promotes hair growth but it also strengthens the hair follicles and combats hair loss – a win-win situation. It's full of hair-loving vitamins like a , c and b6, and calcium which help stimulate production of sebum, strengthen hair follicles and eliminate free radicals which can help promote healthier, thicker hair. I make sure I eat plenty of broccoli – I love the taste but for variation the BBC Good Food Broccoli Recipes are fantastic.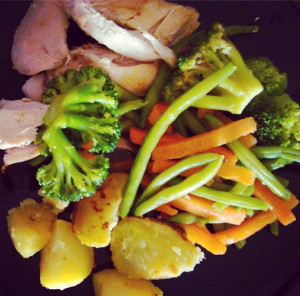 Lifestyle…
Daily scalp massages
The trichologist explained it's very important to massage your head daily to stimulate the scalp and improve circulation, as together they encourage new hairs to grow. I massage my head for 3 minutes every day, mostly after shampooing, using my fingertips to run small circles over my head to stimulate blood flow. I've been doing it for about six months, and I've noticed new hairs and my parting isn't looking as wide as usual – a good sign of improvement!
Turning the hot water tap off
I've always enjoyed scorching hot showers which in hindsight have been terrible for my hair. Hot water can dry out the sebum found in hair making it weaker and prone to breakage, so I've forced myself to turn down the heat. I also give my head a quick blast of cold water at the end of a shower to tighten hair cuticles, which helps make hair more resilient and prevents dirt from accumulating in your scalp. Cold water will also give your hair a really nice shine, especially if you let it dry naturally.
Ditching hot tools
When I was younger I foolishly used my straighteners every day, so my hair was constantly dry and split-ended. I've recently stopped using them and embraced my slight natural wave, and the difference is unbelievable – my hair is soft yet strong. As my hair is more hydrated now it's not as frizzy, so I don't have to use straighteners. I use my hair-dryer when I'm in a hurry but make sure I use a low setting and finish with a cold blast.
Olive oil conditioning
I'm a huge fan of olive oil as a beauty product and use it for everything – cleanser, make-up remover, cuticle oil and hair conditioner to name but a few. If you massage in a few drops of olive oil onto your scalp, pop on a shower cap and have a hot shower (not too hot though!) the anti-oxidants will get to work on your scalp. Also the natural oils found in olive are great for moisturising and keeping hair well hydrated.
If you're interested in the many benefits of this super oil, I've written an Olive Oil Beauty Secrets article – one of many money-saving and beauty articles you can find over at MagicFreebiesUK. You can also take a look at MagicFreebiesUK – for free stuff, free samples and more.
I hope you found my post useful!
Anushka x