Here at talkhealth HQ, we're beating the mid-week blues with a delicious breakfast of homemade fresh bread and jam. This lovely treat is all thanks to Catriona (and her shiny new breadmaker).
When Catriona said she had some treats for us this morning, all our minds instantly thought of the usual biscuits or cakes – we certainly weren't expecting a homemade loaf of bread, jam, marmalade, butter, complete with a breadboard and bread knife!  It was a delicious surprise and certainly brightened up our morning.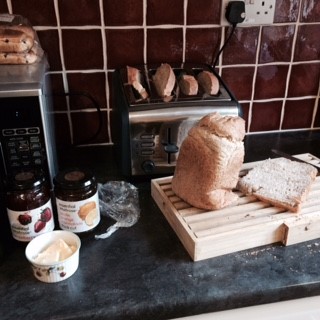 I've always been intimidated by the thought of making my own bread at home but the bread machine sounds fab! Apparently it's as easy as popping the ingredients into the machine and leaving it overnight to bake. It was far tastier than store-bought bread and it isn't laden with preservatives and salt. What's not to like?
Seeing as it's so straightforward, we're all hoping it becomes a regular occurrence.
Have you had any Wednesday morning treats this week? Comment below, we would love to hear your stories.