On 1st October 2000, the talkhealth website was launched. Back then, when websites and the world wide web were barely toddlers, who would have guessed that 18 years later we're celebrating a major milestone in the company's history.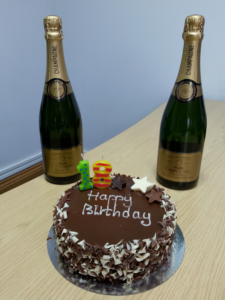 Our aim was, and still is, to offer access to good quality information and support for people living with, or caring for, someone with a chronic health condition. The concept came to Founding Director Deborah Wyatt in the summer of 2000 when her second daughter was diagnosed with severe eczema and various allergies. Disillusioned with the lack and immediacy of good information and support, Deborah believed the internet would enable her to find other like-minded parents to connect with quickly and easily. Ignoring those who said it would never work, Deborah launched talkhealth and within days people were flocking to the site. The rest, as they say, is history!
Living with a long-term health condition can be very isolating and the talkhealth team understands the need for people to communicate directly with others in a similar position who fully understand the day-to-day issues of chronic health, and the importance of good quality information.
That's why, 18 years on, we're still working hard to provide support for as many people as we can – for FREE! Collaborating with a large pool of healthcare professionals who have hundreds of years of experience between them, we've grown to offer several two-way communications channels for people to learn more about their conditions and discuss them with others who are also living with similar issues.
At any time, anyone can submit questions and queries on our Forums, read what other people are talking about on specific topics, and learn how to seek help from the medical community. Anyone can ask questions to our experienced and empathetic experts in our Online Clinics and Ask the Expert sessions, and sign up for our weekly support programmes. And while these free services undoubtedly contribute to easing the huge burden on the NHS and on GP surgeries, we still give guidance to patients to help them understand which questions to ask their GPs to make the most from their appointments.
And while we're celebrating at talkhealth this week, we know we couldn't have offered access to good quality information and support to tens of thousands of people for nearly two decades by ourselves. So, we'd like to take this opportunity to thank all of our partners, experts, patients, caregivers, bloggers and the whole healthcare community for your support over the last 18 years!