To mark World Atopic Eczema Day (14 September) and National Eczema Week (15-22 September) we're hosting an Eczema Twitter Chat Friday 13 September between 1pm-2pm GMT.
We'll be discussing topics such as eczema triggers, care routines, self-esteem and managing eczema with your social life.
The chat will include members from our community, influencers, charities, dermatology experts and more, and we're positive it will spark a very interesting and beneficial conversation for all those involved!
To take part, follow us on Twitter @talkhealth and join and follow the conversation using #eczema or #talkeczema on the platform.
We'd really appreciate it if you also downloaded this banner and shared on Twitter to help us promote the event.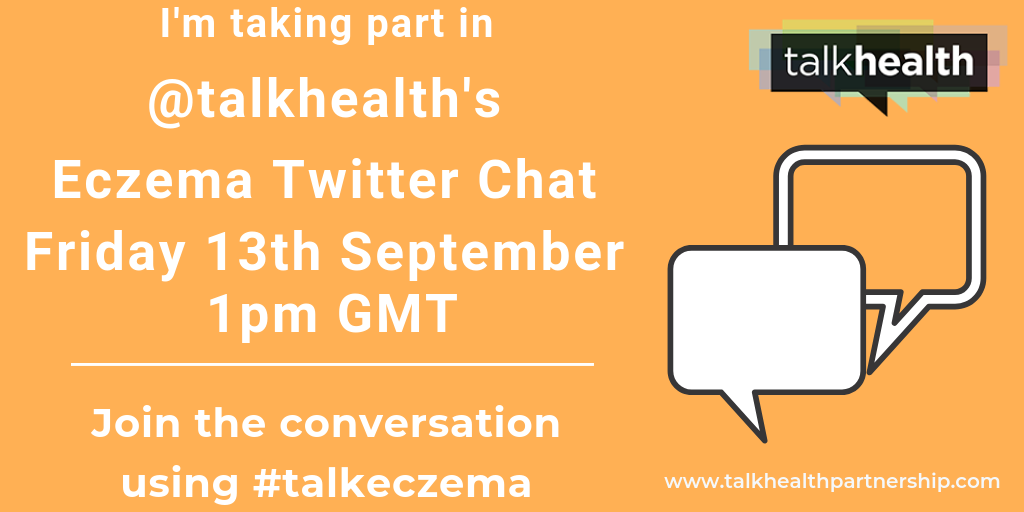 You can also find out more about the Twitter Chat here and check out previous chats too.
For extra support, we currently have a Skin Conditions Clinic where you can ask your questions about eczema and other skin conditions to our panel of experts between now until 30 September.
Looking for further eczema support?
We also have an eczema hub where you can chat with like-minded individuals and experts 24/7 and receive help on any issues all year round.
Plus, if your child has eczema, check out our free eczema support programme, which is packed full of support and guidance to help manage your eczema's child, including what to ask your GP, emollient therapy, and more.