To mark World Menopause Day, Friday 18 October 2019, we hosted a Menopause Twitter Chat on our @talkhealth Twitter Page.
The chat started at 1pm GMT and lasted one hour with a series of five questions. This encouraged lots of positive conversations around menopause and the realness of this topic and how it affected women.
We wanted to ask real questions about menopause, so we asked questions directly relating to symptoms, lifestyle, relationships and more during the hour. We found this approach provoked a more honest conversation from women across the hour.
Question 1: Have you found that menopause increases your anxiety levels?
This question received a resounding yes from everyone who was participating in the chat.
Lots of women stated they weren't even aware that this was a symptom of menopause and some really struggled with this at work and in their every day lives.
This started a conversation between women within the chat about how they deal with stress, and each woman started to open up about their personal experiences, sharing stories about how they felt at work with menopause and what they had tried to do to help.
Question 2: Has menopause been detrimental to your sex life?
Following the theme of how menopause has affected women's lives personally, we asked 'has menopause been detrimental to your sex life?'
We received many humourous comments from women but also found that most had been so affected by menopause that they had completely lost their libido and sex drive.
Women and organisations involved in the chat also offered helpful support on how to deal with this and vaginal dryness too, which can also affect your sex life during menopause.
Q3: Are you positive or negative about hormone replacement therapy?
Hormone Replacement Therapy (HRT) has received mixed reviews across the media and from women's own personal experiences and word of mouth, and this was echoed during our Twitter Chat.
While some women chose HRT and shared their experiences, those who did not opt for HRT shared their reasons why and how they managed their symptoms without it.

Q4: What's the best way to manage unexpected hot flushes & other symptoms?
When it came to discussing how to deal with menopausal symptoms, lifestyle choices such as cutting down alcohol and starting light exercise such as yoga came up often throughout the chat.

Q5: What do you wish you had known about menopause before starting it?
Finally, we asked what was something that each person in the chat wishes they knew about menopause before they started it and overwhelmingly, responses included how little women knew about when it would start, how long it would last and how much it would impact their lives.
Some women even said they had to give up work or reduce their hours, with some sharing that their employers showed a lack of support and flexibility for menopausal women.
Overall, the chat was extremely insightful and everyone agreed that they had learned something and felt the chat was a positive experience in terms of increasing awareness about menopause.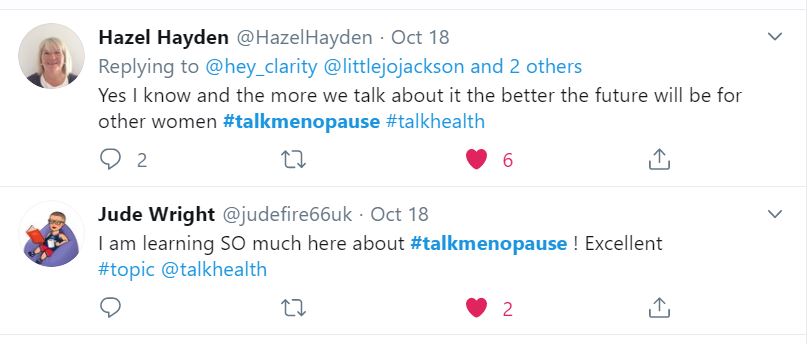 The chat received 83,103 reach and 127.2k impressions overall (as of 21/10/2019) and included 54 contributors from a range of individuals, charities, influencers, healthcare professionals and menopausal organisations
If you would like to catch up on the conversation, check out our highlights now. Plus, keep an eye out for our upcoming Self Care Twitter Chat 20 November at 1pm GMT. Use #talkselfcare to get involved on the day.