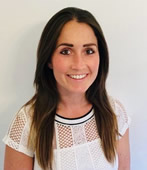 Clarissa Reeves
RD Bsc (Hons) Diabetes Specialist Dietitian
Clarissa is the Specialist Diabetes Dietitian for the NHS Adult Specialist Community Diabetes team in South West Essex. She studied at the University of Surrey and has worked in a range of settings since, including 3 hospitals, community clinics and diabetes specialist teams.
Using her specialist knowledge in nutrition, her passion is educating and empowering patients to achieve the best results for their diabetes management. Clarissa has an array of experience in type 1 and type 2 diabetes within general education, carbohydrate counting, low carbohydrate diets, supporting patients with insulin pumps, and supporting patients with the interpretation of continuous glucose monitoring and flash glucose monitoring downloads.
Clarissa has a very kind and caring nature and wants the best for everyone she sees.
Related Links