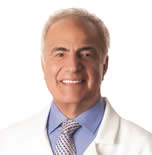 Dr Howard Murad
M.D., FAAD
Howard Murad, M.D. is a FAAD board-certified dermatologist, trained pharmacist, and Associate Clinical Professor of Medicine at UCLA. Devoted to making beautiful, healthy skin attainable for everyone, he founded Murad skincare as a way to share his groundbreaking at-home skincare products and professional facial treatments with the world.
Through more than fifty years of research, Dr. Murad has established that beauty and health are vitally linked and best achieved through an Inclusive approach that improves every cell in the body. Shaped by his Inclusive Health philosophy and inspired by the real problems of the more than 50,000 patients and clients who have visited his Los Angeles dermatology practice and Inclusive Health Spa®, his award-winning formulas have helped millions to resolve their skin issues.
Dr. Murad and his research team continue to research and develop innovative formulas that consumers can access conveniently through the company website, salons, spas and select retail outlets.
Related Links