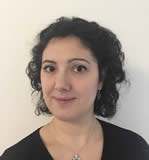 Dr Sian Ludman
MBBCh, DRCOG, MRCPCH, MSc Allergy, European Diploma in Allergology
Dr Ludman is a consultant paediatric allergist at the Royal Devon and Exeter NHS Foundation Trust and has set up a thriving network covering the whole of the peninsula. She is one of only a handful of British Allergists who also hold European allergy accreditation.
Siân has published on various subjects within paediatric allergy, such as predicting food challenge outcomes on cow's milk allergy. She recently won a prize at the European Academy of Allergy and Clinical Immunology conference in Vienna on her work on food challenges. She teaches at Exeter Medical School and lectures on Allergy and immunology at Exeter University Immunopathology modules. She has been heavily involved in working on improving paediatric allergy training across the country.
Siân graduated from The University of Wales, College of Medicine and after working in New Zealand moved to London to start her paediatric training. Gaining a place on the highly sought after London paediatric allergy training scheme ensured her training in paediatric allergy took place at the Royal London hospital, St Mary's hospital and St Thomas's Hospital. She gained an MSc with distinction in Allergy from Imperial College London on the subject of oral allergy syndrome in children.
Related Links
www.bsaci.org/paediatric-allergy-network-directory/peninsula-paediatric-allergy-network