Online clinic on skin conditions 2017
01-30
Sep
2017
From 1 - 30 September 2017 talkhealth teamed up with Mölnlycke Health Care Ltd, manufacturers of Epaderm Cream and Epaderm Ointment, Action Against Allergy, British Skin Foundation, Changing Faces and The Vitiligo Society to present an Online Clinic on Skin Conditions.
Clinical experts answered questions on issues surrounding eczema, sensitive & dry skin, psoriasis, acne, rosacea, scars and many other skin conditions and you can read the questions and answers in this clinic by clicking the blue 'Go to this Online Clinic' button above.
Looking for that little bit of extra support with your condition? Our patient support programmes have been developed to help increase your confidence in managing your condition. To find out more about how you can benefit from our various skin PSP's, register your interest today.
Please also check our list of future clinic dates here.
TWITTER CHAT
Eczema Twitter Chat
Our eczema twitter chat took place on Wednesday 20 September from 1-2 pm (BST) and included discussions around symptoms, treatments and the psychological impact of having eczema. Read the storify here.
Epaderm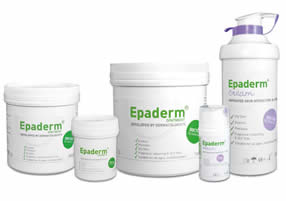 Epaderm from Mölnlycke Health Care, is a rich emollient used in the management of eczema, psoriasis and other dry skin conditions. Epaderm is highly versatile and can be used directly on the skin, in the bath or as a skin cleanser; providing complete emollient therapy in one product. It is suitable for all ages, including babies.
Developed by dermatologists, Epaderm has no fragrances, colourings or additives, and contains less sensitisers than other brands. It contains yellow soft paraffin, emulsifying wax and liquid paraffin, which deeply moisturise and soften the skin. Epaderm provides a film barrier, which aids moisture retention within the skin.
For more information visit the Epaderm website
Action Against Allergy
Action Against Allergy provides information, advice and support to those made chronically ill through the many different forms of allergy and those who care for them.
A national charity founded in 1978, it campaigns for expert diagnosis and treatment to be available to all through the National Health Service and raises funds for vital research into the causes and treatment of allergic illness. Their 'Find a Doctor' service provides personalised advice on the nearest allergy specialist and membership benefits include an informative journal three times a year. In addition, information packs and leaflets covering the whole spectrum of allergy-related illness are available.
Read more about Action Against Allergy...
British Skin Foundation
The British Skin Foundation is the only UK charity dedicated to raising funds for skin disease and skin cancer research. This year the British Skin Foundation turns 20 years old, giving out more than £10 million in grants to over 300 research projects since 1996. As well as supporting research into diseases such as eczema, psoriasis and skin cancer, cases of which are unfortunately all too common; the BSF are also looking to find better treatments and eventual cures for conditions that may be less familiar such as vitiligo, ichthyosis and alopecia.
Read more about British Skin Foundation...
Changing Faces
Changing Faces began its work in 1992 to help people who have a disfigurement to their body, hands or face to find a way to live the life they want.
We are caring campaigners – caring and empowering in supportive, friendly, positive and inspiring ways, and campaigning in our education and advocacy work by being forthright, informed, counter-cultural and determined.
Read more about Changing Faces...
The Vitiligo Society
The Vitiligo Society is a well-established UK based charity that began its work in 1984. Run by a small board of trustees, we are dedicated to supporting, campaigning and raising awareness of Vitiligo, which affects 1% of the world's population.
Over the years, the Society has established a strong reputation for its medical expertise. Funding has been given for research projects with the aim of establishing and understanding the causes of Vitiligo along with finding safe and effective treatments.