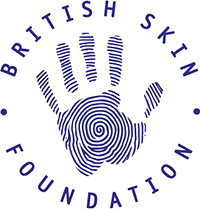 British Skin Foundation
---
Unknown Skin Condition, Please Help
Moderator: talkhealth
Hi everyone,

I was looking for some advice on behalf of my boyfriend. He's had this skin condition for about a year, it came suddenly out of nowhere (he's never had any skin problems before). It flares up like this and becomes an itchy, weepy, flakey sore patch. It covers his hands, lower back, neck, bottom and bits of his legs, mainly behind his knees. When it is bad it prevents him from working (he's a chef).

He's seeing doctors and a specialist once a month but no one knows what it is. He's currently on immune suppressants and steroids and his hands especially are still bad. The medicines are making him poorly and aren't fixing it, I know skin problems are complicated and hard to treat sometimes but it seems like it would be a better idea to try to find the cause rather than treating the effect? I don't know! It's really affecting him and I hate to see him in so much discomfort. He's so itchy and his clothes and bedsheets stick to him. He's now scared to use most shampoos, shower gels, washing powders etc because they seem to irritate his skin further. He has a special hand wash from the doctors that he uses and we make sure that everything is hypoallergenic and gentle on skin.

It's really affecting our lives and he is quite down about it, I was hoping for some advice on what else we could do because I've ran out of ideas! If anyone has any ideas on what it could be, what's causing it or who to contact to help get this sorted I would be really grateful.

Becky xx
---
---
Posts: 3
Joined: Tue Jul 04, 2017 4:17 am
Hi, sad to know that. Well, consulting doctor for that is good so that you will know what condition was your boyfriend suffering now. Taking pills and applying several ointments, lotions or any other products would irritate it. I've been in that before, not the same condition with your boyfriend but also another form of skin problem. I only used doxyva to treat it and so blessed that just only after a few days, results were better. This is a transdermal device that is not time consuming and painless solution. You can search it on the internet and get some info. It would be better if you'll take time reading the benefits you can get. I'm sure this will help you with your problem.
---
Posts: 11
Joined: Thu Aug 04, 2016 12:13 pm
Location: San Francisco
I'm not sure if you found any relief yet, but if I could offer a suggestion?
my son has all the symptoms especially around nose, cheeks and forehead that flared up after he had dengue fever.
I did not want to use any over the counter medicine so I researched. (
http://eczemaliving.com/eczema-and-skin-infections/
) Now he washes his face with a diluted baking soda water daily followed with application of virgin coconut oil on the face after the wash.
Mom quits job and flourishing career to manage son's severely worsening eczema, keeping him at home full time, attending multiple doctor appointments, getting blood work done on various diseases, cooking allergy friendly foods and changing our lifestyle to a hypoallergenic one — read, read, read, track, track, track, stress, stress, and more stress.
Finally I found enough time, had enough insight into the condition, and knowledge from reading research papers and studies to start sharing my experience. Now I am runing blog with name of (eczemaliving.com) This is blog an outcome of my experience in managing my son's severe eczema, food allergies, asthma, along awesome allergy free-recipes, latest research and treatment plans that worked for us.
Thanks,
Nav
Nav Gosal
Founder and CEO - https://eczemaliving.com/
Twitter: @eczemaliving
Email Contact : eczemaliving@gmail.com
---
Posts: 2
Joined: Wed Sep 20, 2017 4:39 am
It needs to be checked by dermatologist. Sometimes skin problems appeared during adulthood and it's really disturbing.
---