KELO-COTE®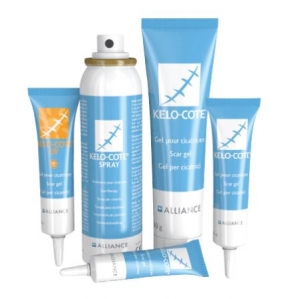 Kelo-cote® is an advanced formula, topical silicone gel intended for the treatment and prevention of hypertrophic and keloid scars resulting from burns, general surgical procedures and trauma wounds.
KELO-COTE® has been trusted for over 20 years to help prevent, treat and reduce the appearance of hypertrophic and keloid scars by thousands of men, women and children (3 months+) around the world.
From our scar gel and spray to our UV Gel including SPF30, all our advanced formula silicone scar treatments are clinically-proven to help soften and flatten raised scars as well as reducing discolouration and redness.
What's more, they're also proven both to help improve the appearance of existing scars in 82% of patients as well as helping to prevent scarring in up to 67% of surgery patients after just four months of twice-daily treatment.
Recommended as a first line treatment by healthcare professionals, cosmetic surgeons and by international scar treatment guidelines, KELO-COTE®'s patented formula binds to the skin's surface creating an ultra-thin sheet that dries within 5 minutes* to treat and protect scars for 24 hours a day with twice daily application.
*Data on file, study of 10 subjects. When used in accordance with instructions.
Key benefits of KELO-COTE are
reduces redness, relieves itching and discomfort
Suitable for adults and children 3 months +
Transparent and odourless (non-UV products)
Day and night protection (2x day applications), water proof and flexible
Can be used under make up
For scars up to 4 years old
Reviews
Excellent product. Very easy to use and helps to heal scars well.
Alice (Aug 20)
Good moisture, long-lasting and most importantly helpful with the almighty itch - I find this the worst part of the symptoms.
Diane (Aug 20)
I like this product a lot. It helped me a lot with my wound. I also found it so easy to apply and I liked the fact that it was not sticky nor greasy.
Ioana (Aug 20)
It is a great scar gel. I have acne and it helps reduce scars on the face. Easy to apply and no need to put much on. Lasts a long time.
Ruta (Aug 20)
Fantastic it made a difference in the look of the scar within a fortnight.
Deborah (Aug 20)
Would recommend to anyone to help reduce scars.
Lucy (Aug 20)
I was lucky enough to try a sample of Kelo-Cote gel which helped me greatly with a burn to my lower leg. It was applied mostly after the painful first period of the burn but I feel it was soothing and certainly helped the wound stay moisturised but in such a way that promoted healing rather than by staying wet which would have been counterproductive.
Tim (Jul 20)
Cooling and smoothing, feels great on my wound once it was mostly healed. I was too chicken to use it for a small while as I didn't like to touch my wound but once I started it was an amazing product.
Sarah (Jul 20)
Very straightforward to use and a quick-drying thin coating and no residue or off-putting smelly offering. A protective barrier helping to alleviate some itching and softening.
Patrick (Jul 20)
Great gel that helped my wound heal and with the pain. Supportive gel that gave me comfort during this time.
Tina (Jul 20)
It was easy to apply and didn't feel like it was 'pulling' or 'pinching' my skin so was not annoying or bothersome in any way. It made me feel like the wound was protected and clean.
Tegan (Jul 20)