Sample Offer:
20 x SweatStop Antiperspirants (15ml)
Offer ends: 8 September 2020
If you are one of the estimated 5% of people that sweat much more than is required, it can not only be embarrassing but can prevent you doing everyday tasks with your hands and cause problem infections of the feet.
SweatStop offers a distinctive range of clinical strength antiperspirants with a product suitable for any area of the skin affected from head to toe.
Containing aluminium like most antiperspirants it also contains the soothing additives aloe vera and panthenol (provitamin B5) and the pH is optimised for skin tolerance.
SweatStop has a range of products and preparations including sprays for the body, hands, feet and underarms, roll-on for the underarms, lotion for the face and forehead, an instant lotion for the hands and powder for the feet. With four strengths from Sensitive with a high skin compatibility to Forte Max for the hands and feet. The Forte Plus strength is very strong but also more skin tolerant than comparable products.
What many people don't know is that to get the best from an antiperspirant – to stop you sweating – it should be applied at night time when sweating is at a minimum. It should be applied every night initially for the first couple of weeks. Once the effect has built up it then only needs to be applied every few days to maintain the effect.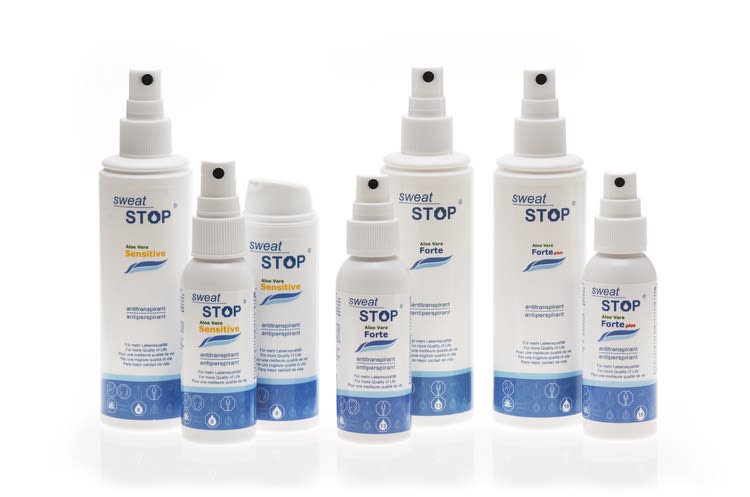 What people have said about SweatStop:
***** "Couldn't be happier with this product. It does exactly what it claims to do. I will definitely purchase again. Easy ordering process and fast delivery."
***** "After many years of having excessive sweating this has stopped it! I can wear colours other than black now!"
***** "Does exactly what it says. Got this for my son, used lots of different products this is by far the best. Easy spray into his hands before bed and nice sweat free all day."
For more information visit sweathelp.co.uk
SweatStop from Sweat Help UK.
Information contained in the freebie promo pages have been supplied by companies who have paid to promote here. talkhealth does not endorse any specific products, brands or treatments and cannot vouch or verify any claims that the authors have made. talkhealth cannot provide any advice on whether a particular product or treatment is suitable. If you are in any doubt about any of the products you read about, we advise you to either contact the company concerned or seek medical advice before changing your treatment routine.