Are GP surgeries getting greener?
---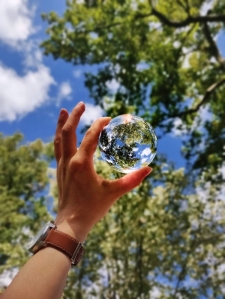 The world's healthcare system is responsible for four to five percent of global greenhouse gases. Although it doesn't sound like a lot, that's about 1.4 billion tonnes of carbon dioxide - shocked? Thought so! But, GP surgeries are doing their bit to reduce their impact, here's how...
There are around 6,822 GP surgeries across the UK and they all have a part to play in the number of greenhouse gases emitted by non-clinical healthcare services. From how the doctors get to work to what energy sources a GP uses, non-clinical greenhouse gas emissions account for about 40% of the emissions from primary care.
These emissions come from everything that isn't to do with administering medicine (that's another kettle of fish!). Whether it's wasting paper, not switching off things at the plug, or delivering equipment overseas, this stuff has a lot to answer for when it comes to global warming.
So, what's being done about it?
It all started back in 2008, with the introduction of the NHS Sustainable Development Unit. Tasked with cleaning up the system, the team conducted the first assessment of the NHS's carbon footprint. Researching way back into the 90s, the study found that NHS England was responsible for 30% of England's public sector emissions. Since then, there have been huge developments and in 2019, there was a 26% reduction in carbon emissions.
This isn't enough if the healthcare system wants to meet its net-zero goal by 2045. Or, if they want to reduce their carbon footprint by 80% by 2032 (as promised in the 'Delivering a 'Net Zero' National Health Service' report that was published in October last year).
One big problem that's stopping GPs from cutting their carbon is the jargon that comes with helping the planet. Just like us, lots of doctors find it difficult to know exactly how to clean up their act themselves.
Until the launch of the GP Carbon Calculator in November 2021. Thought up by Dr. Matt Sawyer, GP and founder of SEE Sustainability - a sustainability consultancy - the online calculator is free to use and easy to understand. Now, our doctors can input all of the information about their commute and the non-clinical things each day to find out exactly what their emissions are and where they can be cut. Pretty amazing, right?
Knowing that global warming has a huge role to play in health issues and emergencies (think pandemics, heatwaves, and food shortages) doctors and nurses are at the forefront of caring for us and reducing greenhouse gas emissions. That's why you might see a few things changing around your surgery these days.
Here are 5 key things that GP surgeries are doing to be greener:
Recyclable and biodegradable instruments
Although this does fall into the clinical arena, the introduction of recyclable or biodegradable instruments is set to be vital in the reduction of medical waste that goes to landfill. Although reusable equipment might also be an option, this would require lots of work when it comes to sterilising (which could actually increase carbon footprints), so lots of people believe this is not a feasible waste remedy.
Paperless communications
On top of prescriptions, GP surgeries cultivate lots of paper waste because of signage and leaflets. That's why more and more of the health communication that you receive will be sent via email or telephone. You can, of course, opt-in or out of paperless communications depending on your preference.
More bike racks
Staff travel accounts for a large portion of non-clinical greenhouse gas emissions at GP surgeries. To remedy this, lots of surgeries are being encouraged to install bike racks so that our doctors and nurses can travel to work in more eco-friendly ways. The government is also pushing surgeries to take part in the 'Cycle to Work' scheme. These safe racks are also free for you to use if you are only visiting for a short time. So, if you are feeling healthy and fit enough to do so, why not jump on your bike?
Switching energy suppliers and services
Like all of us, most GP surgeries are switching to environmentally friendly energy suppliers and services. Whether they're opting for suppliers who work with wind power or green gases like biomethane, you probably won't realise the switch. However, you might notice that there are more hand driers than paper towel dispensers in your surgery. This is to cut back on paper waste and energy!
Remote appointments
We have all gotten used to contacting our loved ones, teachers, bosses, and doctors via video call because of the Covid-19 pandemic. This is set to stay. The planetary benefits of 'dialing in' to appointments include less travel and paper waste as well as less energy use. That said, remote appointments occur on a case-by-case basis so if you feel like face-to-face appointments are better for you, speak to your GP.
Information contained in this Articles page has been written by talkhealth based on available medical evidence. The content however should never be considered a substitute for medical advice. You should always seek medical advice before changing your treatment routine. talkhealth does not endorse any specific products, brands or treatments.
Information written by the talkhealth team
Last revised: 15 February 2022
Next review: 15 February 2025