How to establish a healthier, allergen-free home
---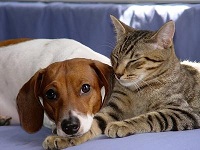 Maxima Skelton, founder-director of The Healthy House, offers some tips on creating a healthier and allergen-free home in her comprehensive article on Action against Allergy's website.
However, she begins by stressing that everyone's allergies and sensitivities are individual, so one person's home might well be very different to another's. She gives tips on general areas of the household; water; toilets, cleaning and laundry; exposure to electronic devices and general electrical appliances; moulds; dust mites; and pets.
Air pollution comes from many sources
You might be surprised to know that air pollution can actually be a bigger problem indoors than outdoors! Pollutants come in a wide variety: furnishings and fittings, carpets, cleaning products, bedding, toiletries, pets and moulds. Maxima explains that fumes can also invade the home from the outside. These sources often include road traffic, pesticides, herbicides and fertiliser if you live near a farm.
Maxima also suggests taking a look around your home and asking these specific questions: "Do you have relatively new carpet or vinyl flooring? Have you painted recently or installed MDF cabinets, a new sofa or memory foam mattress. Do you use easy care bedding or have a PVC shower curtain? Do you use natural or bottled gas for cooking? Many people don' t realise that these items can all be sources of toxic chemicals."
She gives a number of other recommendations, including:
Install an under-sink drinking water filter which will give you filtered water on tap free of chlorine and heavy metals.
Look for natural and organic washing alternatives and you will immediately reduce your overload to chemicals.
Find the source of any mould and get it attended to, and ventilate the home well each day, particularly after having a shower,
Keep pets away from the main relaxing areas and certainly not allowed into the bedroom.
Read Maxima's complete article on the Action Against Allergy website.
Information contained in this Articles page which doesn't state it has been written by talkhealth, has been written by a third party, who has not paid to be on the talkhealth platform, and has been published with their permission. talkhealth cannot vouch for or verify any claims made by the author, and we do not endorse any specific products, brands, or treatments mentioned. The content in our Articles pages should not be considered a substitute for medical advice. You should always seek medical advice before changing your treatment routine.
Next review: 12 December 2021