Frostbite Treatment for Scars
---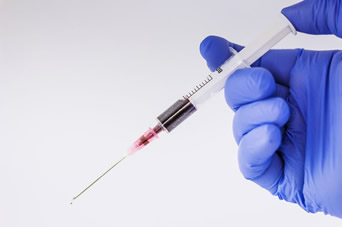 A pioneering hospital treatment aimed at removing scar tissue is being put into practice at Neath Port Talbot Hospital in South Wales. The Cryoshape procedure, which is being carried out for the first time in Wales, involves pumping liquid nitrogen through a special needle into the scar.
This 'advanced form of frostbite' has been found to significantly reduce the size of a patient's scar from the first treatment. Originally developed in Scandinavia, the procedure has already helped a number of patients whose scarring had previously not responded well to treatment. The treatment involves the injection of liquid nitrogen into the scar, which freezes the scar and the skin surrounding it. It takes about an hour on average and it's done under local anaesthetic.
Pale, flat scars, the most common form of scarring, tend to reduce in size and fade in colour over the course of a few years. However, keloid scars (the overgrowth of scar tissue extending beyond the initial injury) and hypertrophic scars (similar to a keloid scar but does not extend beyond the initial injury site) can remain quite visible and in some cases can grow even larger than the original wound. Read more about keloid and hypertrophic scars here. As there is no known way to remove scars completely, this new innovative technique could help those with particularly difficult to treat scars.
Marc Jenkins, who was one of the first patients to receive the treatment, was incredibly happy with the results. For 15 years, Marc had abnormal scarring on his left earlobe, which was the result of a piercing he had when he was younger. Following the treatment, the keloid scar which had previously not responded to treatment and had undergone several operations, completely vanished.
"Psychologically, the last 15 years have been difficult. Hopefully all that is over now … I'm really happy with what they've done. It's amazing. The idea of it is brilliant, I'm fascinated by it."
So far, four patients have received the treatment and six more are due to be treated. Max Murison, plastic surgeon and laser specialist, said: "We are now able to remove abnormal scars with a new technique that was developed in Scandinavia. It was discovered that people who get frostbite don't get bad scars. They heal beautifully.
"So, on the basis of that observation, they started treating scars with a special needle that goes into the scar under local anaesthetic. Liquid nitrogen is then put through the needle and it freezes the scar and a little bit of the surrounding skin. However, we know from previous work that the ones that respond best are on the ears and the upper shoulder.
"We're still learning as we go with this but chest scars can be wider and thicker and don't respond in quite the same way."
The first procedure was carried out at Neath Port Talbot in January after receiving approval for funding by Abertawe Bro Morgannwg University Health Board. Neath Port Talbot Hospital is currently the only hospital in Wales carrying out the procedure, and one of only a few in the UK.
Sources used in writing this article are available on request.
Information contained in this Articles page has been written by talkhealth based on available medical evidence. Our evidence based articles are accredited by the PIF TICK, the only UK quality mark for trustworthy health information. The content however should never be considered a substitute for medical advice. You should always seek medical advice before changing your treatment routine. talkhealth does not endorse any specific products, brands or treatments.
Information written by the talkhealth team
Last revised: 18 September 2016
Next review: 18 September 2019