My Story:
My Constant Reminder!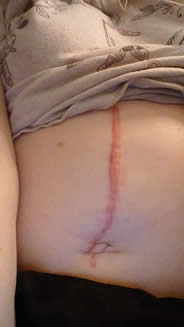 I can remember clearly when the sick started, it was a Tuesday evening around 9.30pm when I had an overwhelming urge to be sick and ran to the toilet. I felt dizzy and hot, I decided to have an early night. I didn't think much of it at the time. I've been having tummy trouble, bloating, abdominal pain and constipation for months and was waiting for an outpatients appointment. I'd had fish and chips for tea and assumed it had set my tummy troubles off!
But the sick just didn't stop, it continued for hours and hours, I was so fed up with trying to make it to the toilet that I just lay by my bed with a bucket. Me and my husband now came to the conclusion that I must of had food poisoning.
By 5.30am I was still vomiting, I felt so weak, my throat was burning from the acid and I had horrendous abdominal pain. My husband said he was phoning 111, I begged him not to, I remember telling him its food poisoning, its wasting their time. However 111 were concerned about the length of time I had been vomiting, especially as I am a type 2 diabetic, and they sent an ambulance to check me over.
When the crew arrived and carried out some observations on me, they realised I was seriously ill, and rushed me to hospital. In accident and emergency my heart rate was erratic, I was dehydrated, my sugar levels were high and I had a high temperature. They managed to stop me being sick but I was still feeling nauseous. They were worried I had a bowel blockage and a CT scan confirmed this,I also had sepsis my blockage was poisoning my body. They quickly put a Ng tube down so they could drain all the contents of my stomach and admitted me to the Surgical Admissions unit.
Whilst in the unit I quickly became critically ill and my care was managed by the Critical Care outreach team. Doctors tried aggressive fluid treatment to wash the blockage out, but this didn't work so I had to go to theatre where they cut me open to relieve the blockage.
I don't really have much recollection of the next couple or days, I was in and out of sleep, and on a self administered morphine pump. When I started to feel a bit better I managed to walk a few paces but was so weak I couldn't even stand to wash. I had to sit at the sink, I had lost so much weight my pyjamas hung off me. I tried to eat but everything made me sick and I had dreadful diarrhoea. After 10 days I was allowed home, I gradually got physically better but still struggle to eat on days. Mentally I'm not sure how much I have moved on.
My scar is a daily reminder of a horrible time in my life, it's a constant reminder that I nearly died. But it's also a reminder that I'm still here to tell the tale. I try and take positives from it and vow to make every day count.
The information above may have been supplied by companies who have paid to promote here; if so the company will be listed. Your Story pages are written by individuals who have volunteered their personal stories. talkhealth does not endorse any specific products, brands or treatments and cannot vouch or verify any claims that the authors have made. talkhealth cannot provide any advice on whether a particular product or treatment is suitable. If you are in any doubt about any of the products you read about, we advise you to either contact the company concerned or seek medical advice before changing your treatment routine.