Slimming pills, what's available and how they work
---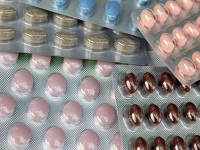 There has been much in the press about slimming pills with different degrees of success reported. There are a wide range of slimming pills available to buy over the counter without needing a prescription from your GP. Many slimming pill makers claim they stop your body absorbing fat, speed up your metabolism, help to reduce your calorie intake and help your body convert fat into energy.
There are a number of websites where you can order slimming pills online. But it is best to seek medical advice before buying or taking any medicines bought over the Internet.
The Royal Pharmaceutical Society (2015) have concerns over testing for fat-burning pills and supplements, as they are not tested in the way that prescription medicines are tested. There is a worry that taking these tablets without the right testing could lead to death. Side effects may occur when taking slimming pills. These can include difficulty sleeping, liver problems, lowered absorption of vitamins, kidney problems and gall bladder problems.
Before starting on a course of slimming pills, seek advice from your GP. They may be able to tell you about prescription medicines, or alternative treatments for weight loss if needed.
Sources used in writing this article are available on request
Information contained in this Articles page has been written by talkhealth based on available medical evidence. Our evidence based articles are accredited by the PIF TICK, the only UK quality mark for trustworthy health information. The content however should never be considered a substitute for medical advice. You should always seek medical advice before changing your treatment routine. talkhealth does not endorse any specific products, brands or treatments.
Information written by the talkhealth team
Last revised: 22 September 2015
Next review: 22 September 2018