Weight loss surgery
---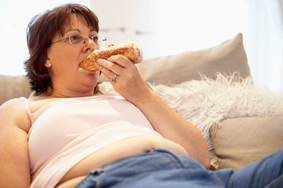 Whether or not to have weight loss surgery should not be taken lightly – it is a big decision to make, leading to a major operation and a big change in lifestyle.

The two most widely used types of weight loss surgery are:
gastric band, where a band is used to reduce the size of the stomach so a smaller amount of food is required to make you feel full, and
gastric bypass, where your digestive system is re-routed past most of your stomach so you digest less food and it takes much less food to make you feel full
Several other surgical techniques may be recommended in certain circumstances.
For some people, surgery may result in higher weight loss results when compared with non-surgical interventions. In addition surgery is likely to reduce problems associated to being overweight. These findings remain the same regardless of the type of procedures used.
Surgery for morbid obesity is considered an intervention of last resort for patients who have attempted first-line forms of medical management, such as diets, increased physical activity, behavioural modification, and drugs.
There are pros and cons with all types of surgery. The decision as to which whether to have surgery and which type of surgery needs to occur after a decision with a specialist weight loss surgeon.
According to the NICE Guidelines 2014, in order to have weight loss surgery with the NHS you will need to:
have a BMI of over 40 or more, or between 35 and 40 with another significant disease that could be improved if weight is lost,
have tried all other appropriate non-surgical measures but weight loss has not been achieved or maintained,
be fit for anaesthesia and surgery.
commit to long term follow up.
There are options to have weight loss surgery privately, either if you don't qualify for NHS funding or would prefer to pay for the surgery yourself.
Always discuss first with your GP who can point you in the right direction.
Sources used in writing this article are available on request
Information contained in this Articles page has been written by talkhealth based on available medical evidence. Our evidence based articles are accredited by the PIF TICK, the only UK quality mark for trustworthy health information. The content however should never be considered a substitute for medical advice. You should always seek medical advice before changing your treatment routine. talkhealth does not endorse any specific products, brands or treatments.
Information written by the talkhealth team
Last revised: 6 May 2015
Next review: 6 May 2018