A Natural Approach to Menopause
---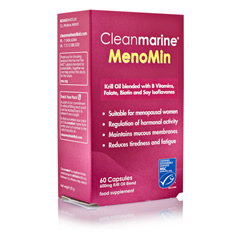 There are times in every woman's life when she is likely to experience the ups and downs of hormone imbalance, and this is especially true leading up to, and during, the menopause.
A new survey conducted by Ipsos MORI on behalf of the British Menopause Society (BMS) has revealed that one in two women in Great Britain (aged 45-65 who are currently experiencing or who have experienced menopausal symptoms within the past ten years) go through the menopause without consulting a healthcare professional. This is despite women surveyed reporting on average seven different symptoms and 42% saying their symptoms were worse or much worse than expected.1
Cleanmarine MenoMin
A unique all-in-one Omega 3, Phytonutrient and Vitamin blend, Cleanmarine MenoMin has been formulated specifically for peri-menopausal and menopausal women
Each capsule of Cleanmarine MenoMin contains Omega 3, Biotin, Rosemary Oil and Soy Isoflavones along with a range of vitamins to provide nutritional support for this phase of life. Vitamin B6 contributes to the regulation of hormonal activity and along with vitamins B1 and B12 it also contributes to normal psychological function.
The menopause can be a draining experience energy level wise for some women. Why not consider a natural approach to maintain energy levels? Cleanmarine MenoMin contains biotin plus Vitamin B1, B2 and B6 that contribute to normal energy yielding metabolism while Vitamin B2, B6, B12 and folate contribute to a reduction in tiredness and fatigue.
Cleanmarine MenoMin contains both Vitamin B2 and biotin that contribute to the maintenance of normal mucous membranes which line the vagina and other parts of the body including the mouth. While Omega 3 fatty acids, DHA and EPA, from krill oil and vitamin B1 contribute to the normal function of the heart.
Similarly bone health is very important as we get older and especially as we approach the menopause. Cleanmarine MenoMin contains Vitamin D3 which contributes to the maintenance of normal bones as well as the absorption and utilisation of calcium from the diet.
Think of Cleanmarine MenoMin as your all in one peri and menopausal daily supplement.
To find out more about the benefits of Cleanmarine MenoMin, please visit our website.
Read independent reviews for Cleanmarine MenoMin
Cleanmarine MenoMin is now available on prescription - speak to your GP

1. The British Menopause Society: Data on file. Women's experience of menopause in Great Britain survey, 2016.

Company

Savant Distribution Limited

Address

Quarry House, Clayton Wood Close, Leeds, West Yorkshire LS16 6QE, UK

Telephone

0113 388 5230

Website

Email
Information contained in this Articles page which doesn't state it has been written by talkhealth, has been written by a third party, and has been published with their permission. talkhealth cannot vouch for or verify any claims made by the author, and we do not endorse any specific products, brands, or treatments mentioned. The content in our Articles pages should not be considered a substitute for medical advice. You should always seek medical advice before changing your treatment routine.
Last revised: 4 October 2019
Next review: 4 October 2020