Menopause: how to lead a full, free & fit life without bladder leaks!
---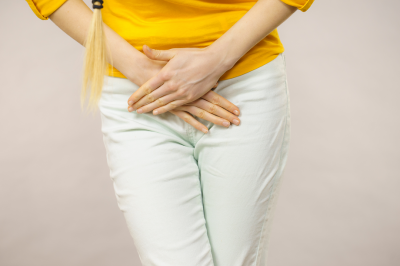 One of the problems many women (as many as 1 in 3) experience unfortunately in menopause is stress urinary incontinence.
The problem occurs when muscles in the base of the pelvis are weak (perhaps from pregnancy, childbirth or natural ageing) and when hormonal changes associated with the menopause (the reduction in levels of the hormone oestrogen) cause further degradation of the pelvic floor muscle resulting in loss of muscle bulk or thickness, loss of normal muscle function and fitness.
Stress urinary incontinence gives feelings of anxiety (fears around having a leak) and practical problems (the need to carry around spare clothes and incontinence pads) with outings away from home to attend family events or shopping, with exercise, or with long car or bus journeys. The good news is that there are so many treatment options available with such good results which are based around getting the pelvic floor muscles back in the normal range of function.
We all know the dreadful feeling of sneezing or coughing suddenly while having coffee with friends or while out shopping and how humiliating and embarrassing it is to be caught short and leak urine. There is a fear that there may be an odour or that leaks will be visible on clothing. Women don't talk about these problems, it isn't known that there is so much help available to resolve these symptoms. Give yourself back your freedom, your life and do fun, former and favourite activities with your family and friends without fear of incontinence!
The pelvic floor muscles can weaken around the time of the menopause. Hormonal changes can cause thinning of these muscles, leading to Stress Urinary Incontinence (leaks with coughing, sneezing and exercising), overactive bladder (needing to use the bathroom very often) and urge incontinence (leaking before getting to the bathroom in time).
iMEDicare Pelvic Health Naturally has a range of award-winning, discreet, clinically effective and easy-to-use devices and products to get the pelvic floor muscles working well again.
Firstly, iMedicare Pelvic Health Naturally Wearever Incontinence Wearables are new, washable, attractively styled, effective and discreet underwear used to manage incontinence. As an alternative to using conventional disposable incontinence products, Wearever Washables work really well, look just like normal underwear, and are better for the environment.
Fully washable and lasting 200-250 washes, Wearever incontinence underwear offers protection from bladder leaks with the benefit of being reusable, saving you money on throw away disposables. These undergarments feature varying levels of protection and protect against light, moderate, and heavy leakage (up to 650 ml). Silver ion impregnation on the absorbency pad fibres kills odour causing bacteria helping to keep you dry and odour free for confident outdoor living.
Visit mypelvichealth.co.uk and order a 6 pack with 7th free or call 01923 237795 – iMEDicare.
Secondly, pelvic floor muscle training using the Imedicare Pelvic Health Naturally award-winning Vibrance Kegel Educator device allows menopausal women to contract and train their pelvic floor muscles correctly. A simple, comfortable pessary (solid small piece of plastic also sometimes called a ring) is placed in the front passage, and it gives vibration and auditory feedback. Exercises can be progressed with the neat attachments which provide resistance to make the workout a little harder!
Thirdly, the Uresta bladder support pessary control urinary leaks while exercising. Uresta pessary is placed by the woman in her front passage. Uresta lifts the bladder to the right angle to stay dry while exercising or outdoors shopping or walking, and it is easily removed afterwards, allowing you go running or Zumba with confidence!
Uresta comes in five different sizes and is roughly the size of your thumb. It has been designed for self-management. As such it is inserted with the same ease as a tampon, it does not need to be removed for urination or defecation and can be worn for up to 8 hours at a time and comes with a one year warranty.
What women have said about Uresta:
66% said it stopped or significantly reduced leakages.
82% of women said they felt comfortable when using Uresta in public.
72% of women said they would recommend uresta to a friend
Finally, innovo is a type of electrical stimulation in the form of a pair of cycling shorts. Comfortable impulses are delivered from the shorts through the buttocks to the pelvic floor muscles. One daily half hour session delivers 180 comfortable, non-invasive, perfect pelvic floor muscle contractions.
Users can actually feel their entire pelvic floor muscles being 'lifted' without having to do any voluntary activation of the area.
93% of users had significant reduction in leaks after just 4 weeks.*
86% of users were defined as dry or almost dry after 12 weeks.*
Use these products for bladder leaks and look forward to giving yourself back your feelings of freedom and happiness, stay dry, fit and active for decades to come!
iMEDicare Ltd is a dynamic and rapidly growing Medical Device Supplier established in 2004 offering an exciting range of unique and market leading medical devices for home patient use in the fields of Andrology and Continence Management throughout the UK and Ireland. Some of these devices can be prescribed by your GP, but all can be purchased over the counter ie directly from us.
Normally, we offer a unique blend of professional and patient product training in Clinical and Home environments which are designed to improve individual product customizability, user uptake and long-term patient compliance and satisfaction.
Right now we are offering customer support by LIVE televideo.
For further information visit www.MyPelvicHealth.co.uk or call iMEDicare directly for a free home televideo assessment on 0192323 7795 M-F 8am to 5pm or email contact@imedicare.co.uk
Company

iMEDicare

Address

Unit 11 Shakespeare Industrial Estate, Shakespeare Street, Watford WD24 5RR, UK

Telephone

01923 23 7795

Website

Email
Information contained in this Articles page which doesn't state it has been written by talkhealth, has been written by a third party, and has been published with their permission. talkhealth cannot vouch for or verify any claims made by the author, and we do not endorse any specific products, brands, or treatments mentioned. The content in our Articles pages should not be considered a substitute for medical advice. You should always seek medical advice before changing your treatment routine.
Last revised: 30 July 2020
Next review: 30 July 2020