Online clinic on thyroid disorders 2012
25-31
Jan
2012
From 25 - 31 January 2012 the British Thyroid Foundation and sense about science teamed up with NHS Choices and talkhealth to present an Online Clinic on Thyroid Disorders. The clinic is now only open for viewing.
Clinical experts answered questions about issues surrounding thyroid disorders and treatments and you can read the questions and answers in this clinic by clicking the blue 'Go to this Online Clinic' button above.
Please also check our list of future clinic dates here.
CLINIC SPONSOR
Personal Diagnostics Ltd
Personal Diagnostics Ltd manufactures a range of diagnostic tests for self testing and professional health screening including ThyroScreen™, CoeliacScreen™, AnaemiaScreen™ and UlcerScreen™.
Our aim is to bring our customers the very latest in medical innovation in rapid tests that are accurate, easy to use and reliable. Our products are CE marked and available both as home tests and for professional use in pharmacies and medical centres offering a professional health screening service.
ThyroScreen™ is our home test kit for hypothyroidism in adults, which identifies raised levels of TSH, regarded as the most important and sensitive marker for underactive thyroid. The test is designed to be very easy to perform, requires only a small finger-prick blood sample and takes just 10 minutes to complete.
British Thyroid Foundation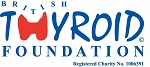 The British Thyroid Foundation (BTF) is a charitable organisation, founded in 1991, dedicated to raising awareness and to helping people with thyroid disorders to avoid isolation and gain information, support and understanding. Working closely with medical and health professionals so that we can provide reliable, evidence-based information, the BTF supports and informs people with thyroid disorders, helps to set up local groups nationwide, and raises funds to support crucial research.
Sense about Science

Sense about Science is a charity that equips people to make sense of scientific and medical claims. We work with community groups, patient organisations, civic bodies, information and health services and over 5,000 scientists to respond to misleading claims and to share the tools of scientific thinking and scrutiny. Much of our work is in helping people weigh up claims about cures and treatments for long-term conditions. In 2009 we worked with neurological disease charities on "I've got nothing to lose by trying it" which explains how to tell the beneficial from the bogus in the face of the miracle cure stories, new wonder-drugs and breakthrough therapies that are increasingly promoted on the internet.
We recently launched the Ask for Evidence campaign which encourages everyone, whatever their experience, to ask organisations to provide the evidence for the scientific claims they make. Our website has tools and resources to help people make sense of evidence. www.senseaboutscience.org