Offer:
10 x AbScent Original Smell Training Kit Giveaway
Offer ends: 9 November 2021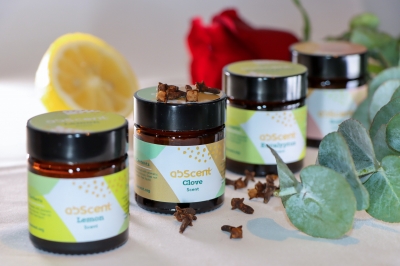 Original smell training kit of rose, lemon, clove and eucalyptus
The ideal starter kit for smell training, four specially blended long-lasting aromas inspired by the fragrances of the original 2009 study.
This kit is based on Prof Thomas Hummel's 2009 research into smell training. The study featured four fragrances: lemon, clove, rose and eucalyptus. The Original Smell Training Kit echoes that study with four distinct aromas ideal for smell training.
Your kit is four amber glass jars, each containing a disc impregnated with fragrance for a clean and easy-to-use training experience.
The fragrance is formulated to deliver a consistent aroma for up to four months if kept in the right conditions. Replace the caps carefully after each use, and keep the jars away from sunlight and heat sources.
Smell training is recommended by doctors for all types of persistent smell loss including virus infection and head injury. A temporary loss of smell and taste is common with many colds and viral infections and usually recovers naturally after two or three weeks. Smell training helps recovery for those conditions that last longer. If your smell loss is recent, you may wish to wait for a couple of weeks before ordering.
The kit comes with a guide to get your started on smell training and support for your recovery.
On Thursday 14th October, the founder of AbScent, Chrissi Kelly, will joining us for a webinar to share her journey with smell loss and the work the charity does in supporting those with smell loss. Visit our Events page to sign up!
https://abscent.org/support-us/shop/original-smell-training-kit
Information contained in the offer promo pages have been supplied by companies who have paid to promote here. talkhealth does not endorse any specific products, brands or treatments and cannot vouch or verify any claims that the authors have made. talkhealth cannot provide any advice on whether a particular product or treatment is suitable. If you are in any doubt about any of the products you read about, we advise you to either contact the company concerned or seek medical advice before changing your treatment routine.