Balneum Itch Relief and Dry skin cream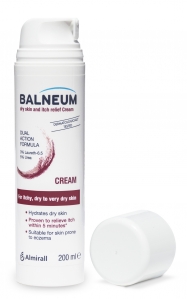 Balneum cream has been specially formulated to hydrate and soothe dry and itchy skin.
Balneum is an easily absorbed cream that's been especially formulated to hydrate and soothe dry, itchy skin – thanks to its specific combination of active ingredients ; 5% urea and 3% Laureth-6.5. Urea helps to combat dry skin by removing any dead skin as well as attracting and holding water in the skin to aid hydration. Laureth-6.5 helps to relieve the itch of dry skin.
Balnueum is available to buy from Amazon
Reviews
This was a great quickly absorbing cream that had a slight fragrance. It soaked into the skin very quickly and calmed it down. It was only needed for a few applications.
Teresa (Sept 20)
It is a great moisturizer. Soaks in pretty fast and you can feel the difference for a long time. I highly recommend it. I have very dry skin inside my ears and Balneum has helped immensely. Some of the reason for dryness is the water in my area, so it is good to find a product that helps long term.
Reneta (Sept 20)
I have used the Balneum Dry skin cream sample for a week on my knees. I am on my knees a lot and they are extremely dry and had started to split, I have noticed a big difference in a week, the split has nearly healed and the skin is not as dry. It does not smell and is not as oily as other creams I have tried.
Karen (Sept 20)
I received a sample of Balneum Itch Relief and Dry Skin cream recently. I was a little dubious because I've tried so many different creams, potions and lotions to try to help my itchy skin. I have had eczema and psoriasis since I was a child but I've recently noticed I get what I term "my invisible rash". There's nothing to see until I scratch it and make it bleed! It 'appeared' again this week so I tried the Balneum on it. Day one, I noticed no difference but on day 2 the itch seemed to subside and the skin cooled down and felt so much better. I was very impressed and will certainly be looking into purchasing some. Thank you so much for allowing me to try this cream - I will be telling all my friends how effective it is!
Alyson (Sept 20)
This is a lightish cream that is easily spreadable over the itchy area. It did relieve the itchiness a bit and didn't feel heavy or sticky on my skin. There was no aroma neither pleasant nor unpleasant.
Susan (Sept 20)
I am impressed with this, it has left my skin feeling soft and nourished.
Elizabeth (Sept 20)
Balneum was simple to apply & easily absorbent. It felt non-greasy after application. There was no burn following it being applied and it softened the skin area leading to a decrease in redness on my legs after a couple of applications.
Michael (Sept 20)
Easy to apply, soaks in well, a faint perfume which is very nice, spreads well covers quite a good area. Non-greasy, skin feels soft after use.
Lynne (Sept 20)
Nice thick cream left my hands feeling soft and smooth, less itchy as well.
Michelle (Sept 20)
My hands are always dry & cracked due to psoriasis so I needed a product that would be kind on my skin. Cream from the doctors is like ointment and leaves my skin greasy. I apply Balneum several times a day to keep my skin soft and soothed. It really helped with the itching too. My hands have felt really nice & soft & crack free since I've started using it and I would definitely recommend to anyone who is suffering.
Pamela (Sept 20)
Really effective cream to soothe and relieve dry, itchy skin. My son suffers from dry skin patches on his face, and this is ideal for him to stick in his blazer pocket and take to school so that he can dab it on when he starts feeling uncomfortable. It's great at relieving itches too, whether it's from eczema, clothes rubbing, or even allergies. Very easy to rub in, doesn't stain or leave a residue, and doesn't smell like some creams do. Would definitely recommend.
Carole (Sept 20)
This is a great, easily absorbed lotion. To me, it seems to have a pretty neutral odour - I had particularly bad eczema on my hands, & using this (in conjunction with a steroid cream) definitely helped soothe & heal the itching & pain. I definitely recommend this lotion & will probably be buying it to use in future.
Robyn (Sept 20)
The sample of Balneum cream was used in conjunction with my prescribed Diprobase for dermatitis and itchy skin and to date the Diprobase did not really address the itchy skin areas on my chest and back but the Balneum certainly did and that was proven by the fact that I did not need to scratch these areas when it was applied 2/3 times daily to the inflamed skin and as a result, I am looking at buying a larger size from a chemist or online as I have also tried other creams either on prescription or advice/reviews etc., but none has helped with soothing the itchy skin as well as Balneum.
Patrick (Sept 20)
I suffer with eczema on my legs and having tried other products Balneum has certainly helped with the itchiness I feel all the time.
Ade (Sept 20)
I tried this on my skin after having a shower, when the skin on my legs is most prone to feeling itchy and dry. I enjoyed the light texture and the effect was immediate, my skin felt hydrated and a bit more elastic as soon as I finished massaging it into my thighs. I am on the fence about the smell though — it seems 'unscented', but has a sort of medicinal scent. I like that because it feels like it has no unnecessary ingredients, but at the same time, it's not really a smell I loved on my skin.
Jette (Sept 20)