Balneum Dry Skin and Itch Relief Cream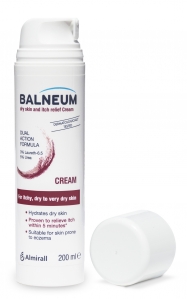 Balneum cream has been specially formulated to hydrate and soothe dry and itchy skin.
Balneum is an easily absorbed cream that's been especially formulated to hydrate and soothe dry, itchy skin – thanks to its specific combination of active ingredients ; 5% urea and 3% Laureth-6.5. Urea helps to combat dry skin by removing any dead skin as well as attracting and holding water in the skin to aid hydration. Laureth-6.5 helps to relieve the itch of dry skin.
Reviews
I have very dry skin around my elbows and knees. I used the cream after my shower in the evenings, the cream is white in colour, fragrant free and has a light texture. It rubs in easily and absorbs quickly, leaving no residue, my skin feels soft after applying and with continued use my elbows and knees feel soft, not dry or rough.
Because we are washing our hands more frequently these days, I decided to use on them, they feel soft as though it has hydrated and moisturised them. I am happy with the cream and will buy more.
Sonya (Nov 20)
First time trying this product and I have to say from the first application it left my skin feeling silky smooth. Easily applied and spreads just as easy, my skin didn't appear so dry and after a while, the redness from the dryness has slowly gone down. Great product.
Tarnya (Nov 20)
Very smooth cream rubs in well and helped with the itching, the sample seemed to go a long way too. Thank you for letting me try it.
Carole (Oct 20)
This is a lovely, heavy-duty moisturiser, without leaving my face feeling greasy. Definitely suitable for sensitive skin, and for those who prefer scent-free moisturisers.
Jess (Oct 20)
Really nice cream absorbs well and great relief from irritations.
Wendy (Oct 20)
This cream is amazing. I ordered the sample for my husband who has dermatitis and has prescription cream that sometimes runs out. He has used this and the soreness and itching cleared up. I will definitely be buying this.
Debbie (Oct 20)
My hands are not a problem at summer and springtime, but in autumn and winter, it gets really bad. My skin is very dry, and I need a good cream. This cream started working straight away, it's very absorbing and my hands were less itchy. I really would recommend this cream to anyone with really dry and itchy skin.
Batool (Oct 20)
It felt so nice, gentle and soothing on my dry skin and was absorbed quickly, leaving a soft silky feel. No strong perfume either to make my nose itch. I used it on the dry, flaky patches on my face overnight and it worked a treat - much better than my usual moisturiser. It was excellent on my dry, eczema-prone hands too, it softened and moisturised without making my skin sore or itchy. I would recommend Balneum to anyone who finds mainstream creams too harsh and will definitely be using it regularly from now on.
Erica (Oct 20)
The cream is a nice consistency and applies to the skin really well. I don't feel like there was too much of a greasy residue and it soaks in nicely. Has left skin feeling quite supple and soft.
Kaileigh (Oct 20)
I suffer from very dry skin which can feel irritated and itchy, so I'm always looking for lotions which can help soothe my skin. I was very impressed with Balneum, it is a thick cream which is very easy to massage into the skin and does not leave it greasy, it absorbs very quickly and leaves the skin feeling soft. It is fragrance-free so does not irritate my skin at all and it felt moisturised and soothed for the rest of the day after using it. Overall I really like Balneum and will definitely be buying it again to help with my dry skin.
Isabel (Oct 20)
I ordered a sample for my very dry skin. My face has eczema around my hair scalp and around my nose. Sometimes I am using prescribed creams and really get tried. This cream is very good. When I use this my skin gets very soft and good moisturizer. A small amount is enough for my face. Even its effect was excellent after the first day. My scalp area is gone. It is not greasy for me and stays long on my face. Absolutely I will buy and use it all wintertime and I recommend to my friends too who have the same problem as me.
Gulcin (Oct 20)
I used this during a period of illness when my skin was really dry and flaky. About after 2 uses my skin was fully hydrated, smooth and plump. I would suggest you don't overuse it as it takes a while to absorb and has a greasy texture but it does wonders otherwise. What it says on the bottle is exactly what it does.
Lilian (Oct 20)
I have very dry skin which is itchy, after my shower, I used the cream on my skin and found relief, redness was reduced and my skin did not feel tight. To get relief like this is very good for me. I have been looking for a product which can do this, now the weather is colder.
Nicko (Oct 20)
I tried the sample of Balneum on the skin around my nose after suffering a heavy cold which left me with dryer than usual skin on my face. I found that it soothed my skin and after only a couple of applications solved my dry skin issues entirely.
Paula (Oct 20)
I hadn't heard of this cream before so was really looking forward to trying it out especially as it claims to stop itchy skin within 5 minutes of application. I followed the instructions and wow my itchy skin felt better after only a few minutes. The cream itself is easy to apply and feels nice on the skin. I have tried it on arms, face, chest, legs and stomach. You don't need to keep rubbing it in, I found it went in really easily and didn't feel greasy. My skin felt supple and non-greasy, soft and non-itchy. I have used it twice daily for about a week and am really pleased with the results. I will be buying this cream to use long term.
Joanne (Oct 20)