Hi Stephanie, to start, can you tell us a bit about yourself
Aged 16, I was the British 100m Backstroke swimming champion and within months of being selected for Team GB to compete at the Sydney 2000 Olympic Games when, suffering from some unexplained symptoms, I was diagnosed (after about 6-months) with Multiple Sclerosis (MS), an incurable disease.
From this lowest point when still at school through until I was 26-years old, I suffered both physically (blindness, paralysis, general clumsiness, etc.) and mentally (suffering acute depression) for this indescribably miserable 8 years. When obese, lonely and at rock-bottom, I was encouraged to re-enter a swimming pool for the first time since 1999 and, soon thereafter, to teach a friend to swim (now my husband, Adrian), I started swimming again and by the end of the same year I competed at the Beijing 2008 Paralympic Games.
For the next 8 years, I competed in swimming championships all over the world, including the Paralympic Games at London 2012 where I won 5 medals and then at Rio 2016 I fulfilled my dream and ambition of winning a Gold Medal; two in fact as part of another 5-medal haul! Now as an un-funded British swimmer, I am aiming to compete at my 4th Paralympic Games, Tokyo 2020.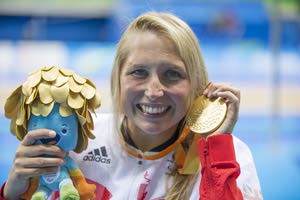 With incredible success at the recent World Championships (2 Gold Medals in the 34 Point Relays and a 4th in the S9 100m Backstroke – in September 2019) I am very much on target for Japan next year.
How did you react to your diagnosis?
Prior to the diagnosis I had spent many months struggling with unexplained symptoms – remember I was just 17 and an elite athlete; it was frightening. I was tripping-up on flat floors, spilling cups of tea and dropping plates; sometimes worse waking up blind or paralysed. My perfect life was falling apart and neither I nor those surrounding me could understand why.
With endless visits to hospitals and specialists during this time, it was obvious I had a big problem and finally the diagnosis came. I suppose there was some relief in knowing I had MS, but finding I had an incurable disease was a nightmare. The internet was of no comfort – a disease for the rest of my life – no cure, no relief, a life sentence. As you'll have read in my first answer, fortunately I found a way-out through swimming, but not before the most terrible 8-years of suffering. Lonely, frightened, obese, depressed – I cried every day, indeed I cried almost all of every day.
How did your life change?
Before the diagnosis I was excelling at school and training hard. In my mind, my future was planned out – taking A' Levels, getting my grades to go to a great University to read Maths or Business Studies and continue swimming. I had already reached the qualification times for the Sydney 2000 Olympic Games
My life was perfect, and I loved everything.
This life ended in a full-on, head-on crash in 1999. My vision deteriorated into a mixture of colours and blurs, unable to read my textbooks or even watch films – I struggled to see what was just in front of me. My Olympic dream shattered, I didn't take A' Levels and didn't go to university and instead I became home-bound and depressed.
For anyone who doesn't know, how would you explain MS?
In electrical terms, I am a human short circuit. My brain is working and active, but the sent messages often don't arrive at the destination. So, for example, I might be walking and see a small obstruction; I know the brain is sending a message to the foot to 'pick-up' but it doesn't reach and I stub my toe or worse trip-up.
With experience, I have learnt that my emotional state dramatically impacts the MS. For the eight miserable years, the MS had complete control of me. Since I have got back to swimming, found my husband, Adrian, and started achieving things in my life again the MS's grip on my life is greatly reduced. For me, it is a very physical illness that is directly linked to my emotional state and, wherever possible, you will find me happy and positive as this undoubtedly curbs my horrible MS symptoms.
What are the most common symptoms you experience?
My first symptoms were blurred vision (including total blindness in both eyes) – Optic Neuritis. Twenty years on, my vision remains an issue, but it's generally the day-to-day coordination that causes the most problems. Some days, I am totally unable to brush my teeth, or make a cup of tea or I find that tying my shoelaces is impossible – multiply these by 100, each day and you'll begin to understand the frustrations.
As mentioned, some days are so much better than others which is why I haven't resorted to Velcro shoes yet! Fortunately, when in the pool my arms and legs appear to receive all the brain's messages and I still swim pretty well for a 38-year-old and still on course for my 4th Paralympic Games in Tokyo next year! That said, I always need to be helped out of the pool after a race or a training session and sadly I still suffer regular (monthly) MS 'attacks' and these always set me back.
How do you manage being a Paralympic swimmer and day to day life with MS?
Like most people and certainly all athletes, I have a schedule and I am disciplined. Sadly, mine just starts earlier and includes Saturdays – with my alarm always set for 0445hrs! I have a light breakfast and head into the University of Bath and am stretching by 0530 and in the pool by 0600 for the first session of the day. Thereafter, generally the days run like clockwork – as I have set times for meals, gym sessions other training and my second swim. I also set aside times for when I study my online accountancy course. Additionally, one of my fantastic supporters, Neill Ricketts, CEO of an engineering company (Versarien PLC, along with his CFO) has given me a p/t role doing Payroll and Management Accounts, working from home. This 10-hours per week is fantastic 'book-keeping' experience – and I get paid too!
My weekly schedule is colour-coded ….. I love the Green and White blocks most! Green is mealtime and white is Rest, Recovery or Sleep! In my experience, there's never enough White, but I love the life I now have – something I would never have imagined at any stage during the ghastly and horrendous 2000 – 2008 period.
What advice would you give to someone who had just received a diagnosis?
With the experience I have had, my advice is 3-fold.
Speak to the experts, the amazing volunteers or fellow suffers. We are truly blessed to have an incredible support system for MS in this country. Whether the MS Society, the MS Trust, MS UK or the world's leading neurologists – there is information that is so useful. Speak to fellow sufferers, or their families, they all offer so much – they have been through this heart-breaking moment. Although this will feel like the end of the world, you are not alone and not the first. Use the experience and support network to help you.
 I would love to tell you to 'Stay Happy' because for me, this reduces the impact of MS. That said, I can remember only too well, people trying to comfort me and say "it's not the end of the world" – but, I was just 17, and it was!! So, knowing you won't believe me at this stage, I URGE you in the coming months not to get into a spiral of depression, and end-up losing anywhere near the 8-years I lost to MS.
Find things you can do, things that interest you and things that excite you. Try and find avenues where you can help others – find purpose to your 'new life' for this is what it is. This may take time, but with support, everyone must find a purpose in life. I have spent the last dozen years helping with Riding for the Disabled, I am Patron of 2 Charities and a Sporting Ambassador for another 7. Nothing, not even winning swimming medals, gives me greater pleasure than helping people in need.
Thank you for reading – I hope you enjoy your day.